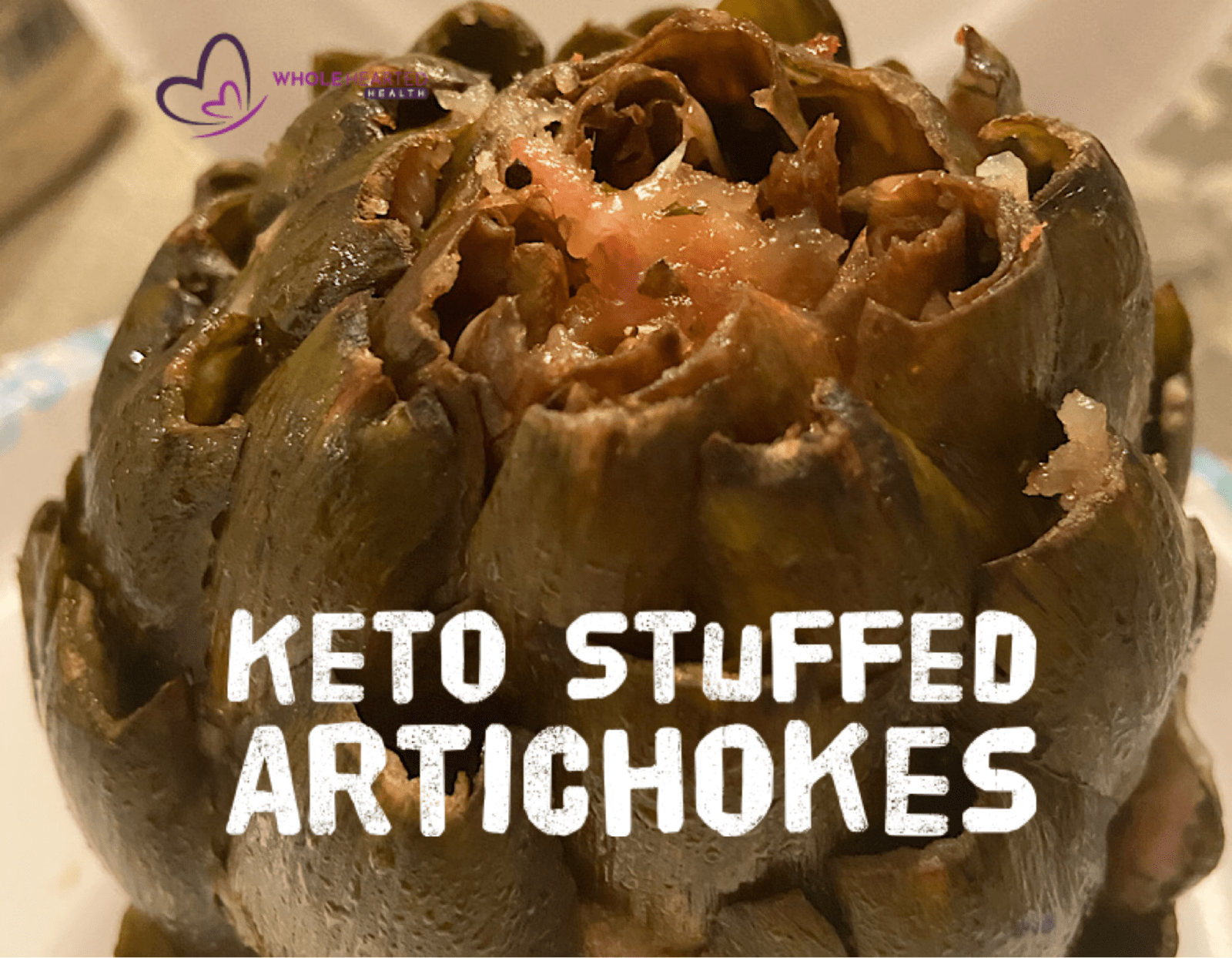 Keto Stuffed Artichokes
Technically I am only 1/4 Italian, but I grew up with all the Italian cuisine specialties; chicken cutlets, eggplant parmesan and rice balls, to name a few.  So I'm looking for ways to make my favorite dishes healthy and came up with this recipe for stuffed artichokes.  Instead of bread crumbs, I am using crushed pork rinds and it is absolutely delicious.  If you love artichokes, you will love this recipe which is also an option for those following keto.
Ingredients
3-4

medium size artichokes

1

bag chicharrones

I used 5 oz. Utz brand, crushed in food processor or blender

2

cloves

garlic

minced

1/2

cup

Parmesan cheese

shredded

1

Tbsp

dried parsley

1

tsp

dried oregano

4-5

pieces

of prosciutto or bacon cut in small pieces

Salt and pepper to taste

1/2

cup

olive oil
Instructions
Cut part of the stem. Slice off ¼ inch straight from the top of each artichoke (the prickly part).

Open the leaves. Stand the artichoke upside down and push firmly on the stem side to slightly open the leaves making room to catch the stuffing. Using scissors cut the tip of each leaf straight across.

Mix crushed chicharrones, garlic, Parmesan cheese, parsley, oregano, prosciutto, salt and pepper in a small bowl.

Stuff leaves of artichoke, filling each one until packed.

Drizzle the olive oil over the artichokes. Sprinkle with a little salt over the top and sides.

Put artichokes standing up into a wide pot large enough to hold the artichokes. Add enough water to cover just to the top of the bottom row of leaves of the artichokes.

Cover and let the water come to a boil. Lower the heat and let the artichokes simmer for one hour or until leaves are tender. Serve warm.
Notes
You may need to cook the artichokes a little less or a little more depending on the size.  When the leaves are falling off and you can pierce the bottom with a knife, you know they are done.