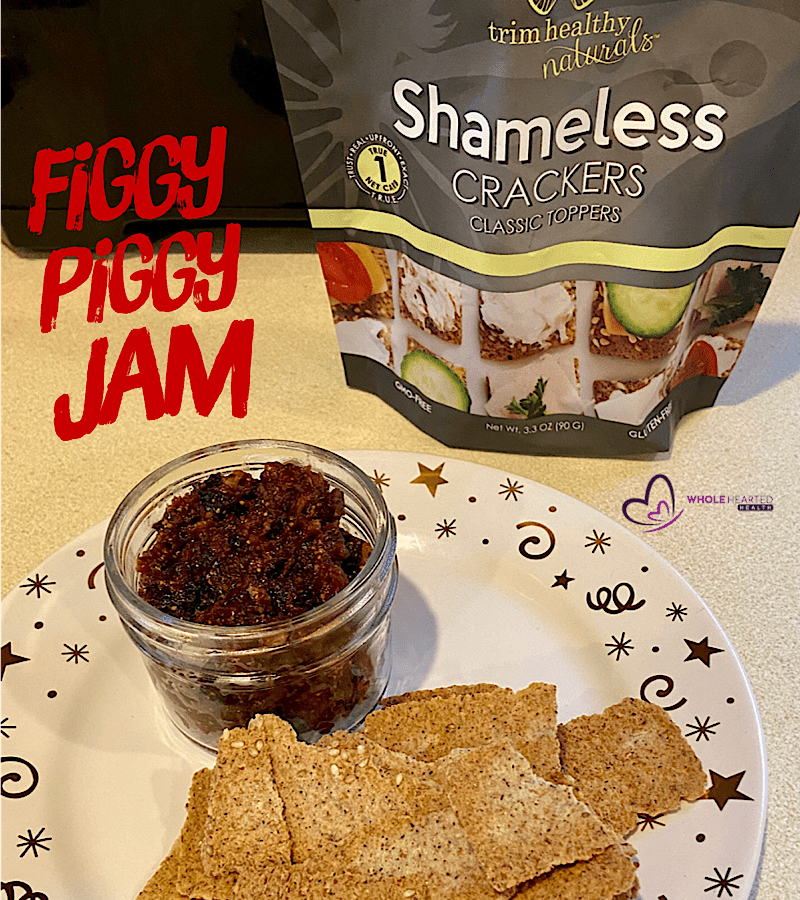 Figgy Piggy Jam
This Jam is delicious! I tried using fresh figs to cut back on the sugar content, but it did not work. To get the amazing taste of this jam, you must use dried figs. With that said, you don't want to eat this with a spoon. Use as a spread on your charcuterie board or on top of your baked brie. It makes about two cups so you could also give this out to a friend or use as a hostess gift. It's 100% worth the time it takes to make this.
(Based off cooking class with Chef Ken Watt, C.E.C.)
Ingredients
1

lb.

figs

dried figs - not fresh

1

lb.

bacon

cut in 1 inch pieces

1

small onion

diced

3/4

cup

brown sugar

or brown sugar substitute like Swerve brown

1/2

cup

bourbon

1/2

cup

brewed string coffee

1/4

maple syrup

you can use sugar free

1/2

tsp.

ginger or 1 inch fresh

grated

1

cinnamon stick or 1/2 tsp. ground

1/4

tsp.

Salt

1/4

tsp.

Chipotle chili pepper
Instructions
Remove and discard any woody stems and then cut figs in quarters. Place them in a medium bowl. Add bourbon, brewed coffee and 1/2 cup water. Cover and let the figs soak for about 30 minutes.

Heat a large heavy-bottom pot over medium heat. Add the chopped bacon and cook until the bacon is done and slightly browned, but not crispy. You can do this in batches if necessary. Remove the bacon from the pot and transfer to paper towel lined plate. Pour off some of the bacon grease, leaving about 1 Tbsp. in the pot.

Add the onion to the pot with the reserved bacon grease and sauté until the onions start to soften, about 5 minutes. Add the figs and all the remaining ingredients, including the cooked bacon. Bring the mixture to a boil, then turn down the heat to maintain a slow simmer for about 20-30 minutes, stirring occasionally during this time. The jam is done when most of the liquid has evaporated and it has darkened in color.

Remove the pot from the stove and allow jam to cool slightly. Then transfer the jam to your food processor with the blade attachment and process until the desired consistency is reached (I like my jam to have a bit of texture).

Transfer jam to airtight containers and store in your refrigerator. The jam will keep for approximately 2 weeks.